Chair
Hey there!
My name is Lloyd Hooghwinkel and I am 22 years old. I am in my third year of the IBC course with the english track. Although i've been living in Nijmegen for the past three years, I am originally from Oosterhout in Brabant. I really do love Nijmegen as it feels almost like home. This year I will be fullfilling the position of Chair of the 34th board of Babylon.
In my first year at Babylon I did not really participate in any activity because of Covid, but I decided to sign-up on my own to be a parent for the Orientation Week and I have met so many great people there and made lots of friends. Because of this I decided to become an active member and I became chair of the Formal Activities Committee and I joined the Career Committee as a sponsor member.
Within a year of becoming an active member I can now proudly call myself the Chair of this lovely association.
As Chair of Babylon, I have the ultimate responsibility of our study association. It is my job to lead and coordinate the board and to make sure all of us are doing their job right. I hope to be able to meet all of you very soon! You can always come for me to a fun chat, some banter or if you need someone to talk to. I am very excited to organise fun activities for all of you to hopefully make your time as a member of Babylon unforgettable!
Cheers,
Lloyd Hooghwinkel
Chair 2022-2023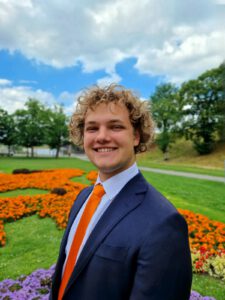 Secretary
Hi,
I am Sven Drosten, I am 20 years old and I will be starting my second year of Communication and Information Sciences next year. I come from Deventer, the most beautiful city of Overijssel, and I currently live in Nijmegen at a nice place in the centre. I visited Nijmegen for the first time last year and I immediately felt at home because of the people and the good atmosphere. This year I will be the Secretary of the 34th Babylon Board, and I am looking forward to that.
Besides my studies, I work as a driver. I like the work very much, it is varied and I come to places in the Netherlands and Belgium where I would never come otherwise. I also enjoy playing football and sports in general.
I got to know Babylon gradually over the year. In the beginning, I only attended the get-togethers, but after I joined the ski trip, I became an active member, and I am very happy about that. I became a member of the CIA, better known as the Committee of Informal Activities. Within this committee, I had a lot of fun and made friends for life. I really like the study association and the people who are part of it, and therefore I decided to become a board member. As Secretary I am responsible for the daily affairs. I will also take care of all communication with the members and the editors of the Babylon Magazine. I am sure that next year will be a great time and I will do my best to help everyone where needed. Please feel free to come by with any questions or for fun!
Greetings,
Sven Drosten
Secretary 2022-2023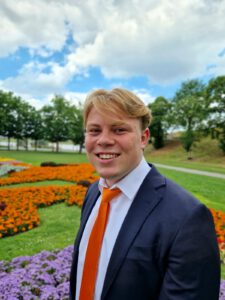 Treasurer
Hi there!
My name is Daniël and I am 20 years old. I was born and raised in the beautiful town of Dinteloord in the province of Noord-Brabant. This year is my first year in Nijmegen and I fell in love with the city without even realizing it. I am entering the second year of the Dutch track of Communication and Information Sciences. Before I started studying Communication and Information Sciences I studied Law at the Erasmus University in Rotterdam. This was ultimately not for me, so I chose this study at Radboud University and it was the best choice I have made. This year was also my first real encounter with student life and I really like it. I am originally from a smaller town so I am not quite used to big cities, but Nijmegen gives the town feeling which makes me feel very comfortable here now. Next year I may call myself the Treasurer of the 34th Babylon Board!
I first got to know Babylon during the introduction week my first year. However, I did not have a very good experience with my previous study association, so I thought Babylon was the same, which is why I never became active next to the Borrels. However, I was persuaded to go on the Skitrip, after which I fell in love with this association. After the Skitrip, a place became available in the CIA (Committee for Informal Activities) which I could join and I was happy to do so. Because of the Committee I made a lot of new friends and I had the time of my life. Then I decided that I would also like to be on the Board, so I signed up. Now I am lucky to be able to call myself the Board of Babylon with four of my friends!
As the treasurer of Babylon, I have the final responsibility for the finances of Babylon. I have to make sure that our study association remains financially healthy. Besides this, I (and my board members) want to make sure the members have the best time! I am really looking forward to it! Besides this, I like to have a chat with everyone, so if you see me, don't hesitate to walk up to me, I always enjoy it!
Greetings,
Daniël Heijboer
Treasurer 2022-2023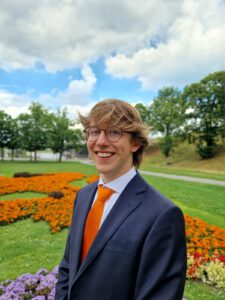 Commissioner of Internal Affairs
Hey!
I am Coen Esselink. I am 19 years old and I am currently in my second year of the Dutch track of Communication and Information studies. I was born and raised in the beautiful city Deventer, but I have been living in Nijmegen now for about a year. In that time I have really found out how amazing Nijmegen is and how amazing Babylon is! That is why I will be fulfilling the position of Commissioner of Internal Affairs of the 34th board of Babylon.
During the Introduction Week last year, I was first introduced to the study association Babylon. After the Introduction Week I knew that I wanted to be an active member, so I decided to join the Committee of Informal Activities (CIA). This committee gave me the possibility to meet a lot of new people and has resulted in many new friendships. Even though I have not been with Babylon for a very long time my love for Babylon grew very quickly, so I decided that I wanted to do a board year. And here we are!
As the Commissioner of Internal Affairs, I will be responsible for the book sales and maintaining contact with lecturers and professors as well as the educational programme and CIS students. Besides the general board tasks, I will take part in the Study Programme Committee, where we try to maintain and improve the educational programme and I will be the confidant of the 34th board. The latter means that you can always come up to me for a chat if something is not sitting right with you regarding your studies or personal life. Furthermore, I am coordinating four committees: the Educational Committee, the Committee of Formal Activities, the Career Committee and the Weekend Committee.
I am really excited for this year and I hope me and the other board members will make your time as a member of Babylon unforgettable!
Cheers,
Coen Esselink
Commissioner of Internal Affairs 2022-2023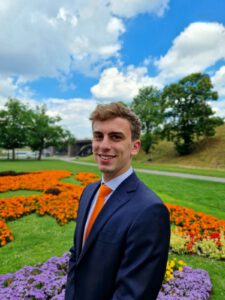 Commissioner of Activities
Hi guys!
My name is Daan van Velzen and right now i am 19 years old! I am in my second year of the study International Business Communication, with the French track. I live in the beautiful Nijmegen at the Sint Annastraat, the perfect location if you ask me. This city never gets boring, especially with a study association as Babylon. That being said, I am very proud to say I am the Commissioner of Activities of the 34th board of Babylon. With my fellow board members, I am going to do my utter best to make this year unforgettable.
During my time at Babylon, which has thus not even been that long. I have already participated in as many activities as possible and even took on the role of Chair of the Committee of Informal Activities. Because I become so active, I have met so many great people. I can truly say I love the Babylon family and I am proud and happy to say I am a part of it. So, to conclude, I would not have wanted my time within Babylon to be any other way.
As Commissioner of Activities, I am responsible for organizing the monthly 'borrels', the Ski Trip, the Orientation Week and the Babylon Magazine. That last one might seem like the odd one out, but I guarantee that this is the right fit for me! Personally, I think the role as Commissioner of Activities suits me perfectly since I love organizing fun activities and I am always energetic. This year I will be at your full disposal, so don't hesitate to come by for a good talk or a drink. I am very much looking forward to meeting all of you upcoming year!
Cheers,
Daan van Velzen
Commissioner of Activities 2022-2023